到博物馆看展,是一场汲取知识的享受,但是做博物馆陈列展示,是一件痛苦的事情。对于很多博物馆来说,选择一款拥有美观、收藏和保护的博物馆展柜是非常重要的,决定了博物馆的可持续发展。
我们都知道博物馆是了解文化和历史的重要场所。然而,在陈列展示的过程中,古董、艺术品、收藏品等高价值的文物非常的脆弱,自然与人为较为明显的因素会对文物造成损坏。为了防止文物在展示过程中受损造成不可逆的影响,为了更好地保存文物展示文物给社会发展提供服务,博物馆要需要做非常多的陈列方案。除了要编写陈列大纲和大量的文字工作,还要做专业的设计和制作来保护展品的安全,通常博物馆会利用玻璃展柜作为文物保护的基础设施。博物馆的玻璃展柜是专业的展柜,对性能要求的非常高,为了能较好地保护展示的文物,通常需要的专业展柜厂商设计和定制。
杭州万龙展览展示有限公司在当时的行业还不是很规范的情况下,制定了严格的博物馆玻璃展柜标准,独树一帜一度引起业界震动,至今已经为全球68个国家的私人、民营和国家博物馆提供过优质玻璃展柜服务。其服务、产品和价值观深受社会尊重,被客户、股东、员工所高度认同,因此迅速走向国际,成为中国商业空间集成服务商之一。长期以来,杭州万龙展览展示拥有细致的团队、优异的业绩、优质产品和服务、较高的健康安全环保水平、良好的社会责任担当和声誉口碑,得到了国际社会的认可和信赖,从而得以跻身世界大舞台,成为在全球各大博物馆的优选品牌。
20年来,杭州万龙展柜从一开始采用的普通透明玻璃作为主材的第一代专业博物馆展柜玻璃。到后来第二代博物馆展柜玻璃采用了具有高透射性的超白玻璃,再到如今备受青睐的第三代博物馆展柜玻璃--低反射玻璃作为主材,一直在不断提升着自身标准。杭州万龙展柜(Master Showcase)先后集成了四大产品功能于一体的超清超白玻璃展柜,具有尺寸精准,高密封性,高透性低反射,防砸防侵入等优异性。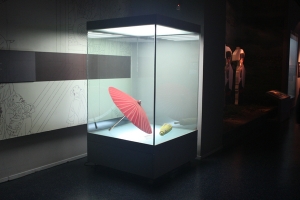 万龙认为,博物馆是对公众开放以学习、教育、娱乐为目地的场所。是市民、游客、学生、研究人员认识历史、感悟文明辉煌的窗口。而展柜是博物馆很好的展示辅助道具,一个好的展柜可以帮助博物馆传播文化知识,带来社会效益的增长,促进国家教育事业的发展。杭州万龙展柜会紧紧围绕"创新、协调、绿色、开放、共享"的宗旨,保证产品质量及工艺的标准,为全球的博物馆提供高品质玻璃展柜,助力博物馆文物保护和展览。
Going to the museum to see the exhibition is a enjoyment of learning knowledge, but it is absolutely a painful thing to display in the museum. For many museums, it is very important to choose a museum display cabinet with beautiful appearance, collection and protection, which determines the sustainable development of the museum.
We all know that museums are important places to understand culture and history. However, in the process of display, high-value cultural relics such as antiques, works of art and collectibles are very fragile, and natural and man-made factors will cause damage to cultural relics. In order to prevent the irreversible impact of cultural relics in the display process, and to better preserve cultural relics to provide services for social development, museums need to do a lot of display programs. In addition to the compilation of exhibition outline and a large number of text work, professional design and production should be done to protect the safety of exhibits. Usually, the museum will use glass display cabinets as the infrastructure of cultural relics protection. The glass display cabinet of the museum is a professional display cabinet with very high performance requirements. In order to better protect the displayed cultural relics, the professional display cabinet manufacturers usually need to design and customize.
Hangzhou Wanlong Exhibition Co., Ltd. formulated a strict standard for Museum glass display cabinets when the industry was not very standardized at that time, which once caused a shock in the industry. So far, it has provided high end glass display cabinet services for private, private and national museums in 68 countries. Its services, products and values are highly respected by the society and highly recognized by customers, shareholders and employees. Therefore, it quickly moves to the international market and becomes one of China's top commercial space integration service providers. For a long time, Hangzhou Wanlong exhibition has been recognized and trusted by the international community with its excellent team, outstanding performance, first-class products and services, high level of health, safety and environmental protection, good social responsibility and reputation, so that it can enter the world stage and become the preferred brand in major museums around the world.
In the past 20 years, the first generation of professional museum cabinet glass with common transparent glass as the main material has been used in Hangzhou Wanlong exhibition cabinet. Until the second generation of museum display cabinet glass used ultra white glass with high transmittance, and now the third generation of museum display cabinet glass - low reflection glass as the main material, has been constantly improving its own standards. Hangzhou Wanlong exhibition case has integrated four product functions into one super clear and ultra white glass exhibition case, with the advantages of accurate size, high sealing, high transparency, low reflection, anti smashing and anti invasion.
Wanlong believes that museums are places open to the public for learning, education and entertainment. It is a window for citizens, tourists, students and researchers to understand history and realize civilization. The exhibition cabinet is a very good display auxiliary props of the museum. A good exhibition cabinet can help the museum spread cultural knowledge, bring the growth of social benefits, and promote the development of national education. Based on the tenet of "innovation, coordination, green, opening and sharing", Hangzhou Wanlong exhibition will ensure the quality of products and the standard of technology, provide high-quality glass Exhibition cabinets for museums around the world, and help Museum Heritage Protection and exhibition.